First of all, we're not really celebrating Christmas in this house. Aside from taping bows to things like the front door, the electric meter, the water tap, the car's gas tank door...you know, the places where our money HAS to go right now. Don't get me wrong! I am extremely grateful there's money enough for those things! I have plenty of "stuff," so I really don't need much of anything, though of course there're always plenty of "wants." I have a a set of three packages from an artist friend to open, and have snagged some items over the past year from various places that are wrapped and ready to give to V, but there's no tree, no ornaments, no
Who-pudding, no Who-roast beast. Still, it's a special day, and as such deserves a special meal. So I'm going to make a nice brunch, and a couple of yummy deserts, plus some savory muffins just to munch on...what'd'ya think?
Cheesy Cajun Bacon And Andouille Strata
5 cups non-sourdough French bread
12 eggs
2 1/4 cups milk
3 cups shredded cheddar cheese
1 14 to 16 ounce package smoked Andouille sausage, sliced
1 pound bacon, diced
5 green onions, sliced thin
1/2 cup chopped bell pepper (I often use a blend of green, red, and yellow for the added colour in the final dish)
1 1/2 teaspoon Cajun seasoning (I create my own: recipe follows)
3 tablespoons unsalted butter, melted
Preheat oven to 350 degrees. Grease a 2 quart (preferably glass) baking dish.
Saute sausage, half of the onions, and green peppers until the sausage is lightly browned and the peppers are tender.
Cook bacon until crisp, drain and blot to remove grease
Mix cooked sausage and pepper with the bread
Mix remaining onions, cheese, and bacon with the bread/sausage mixture; pour into buttered baking dish and level.
In a large bowl, beat the eggs. Add the milk and beat until blended, then pour over bread mixture.
Let sit for about ten minutes to give the bread time to soak up the liquid, pressing gently on the bread to assist the process.
Drizzle with the melted butter, cover with foil
Bake at 350 for about 45 minutes or until set in the middle (check with a butter knife or skewer. It shouldn't come out with any loose dripping mixture on it.) and nicely browned.
Let rest for about 5 minutes before cutting.
Cajun seasoning, blend together:
1 Tbls salt
1 tsp onion powder
1 tsp garlic powder
1 tsp dry mustard
1 tsp cayenne
1/2 tsp white pepper
1/2 tsp ground cumin
1/2 tsp black pepper
1/2 tsp dried thyme leaves
1/2 tsp dried oregano leaves
1/4 tsp ground cinnamon
Broccoli-Spinach Casserole
2 bags fresh spinach, washed and thoroughly dried
3 pounds of broccoli florets, cut into bite-sized pieces (You can use frozen veggies if you like, just make sure to defrost and drain them thoroughly. Plan on two boxes/one bag each chopped spinach and chopped broccoli.)
16 ounces sour cream
1 package French Onion Soup Mix
1 cup grated cheddar
grated cheddar for topping
If using fresh veggies, parboil them until the spinach is soft and the broccoli is bright green, then chop coarsely.
If using frozen veggies, cook, drain, and squeeze excess liquid out.
Mix veggies with the sour cream, onion soup mix, and one cup of cheddar. Top with the rest of the cheddar cheese and bake at 350°F for about 40 minutes until hot, bubbly, and the cheese is toasted.
Savory Breakfast Muffins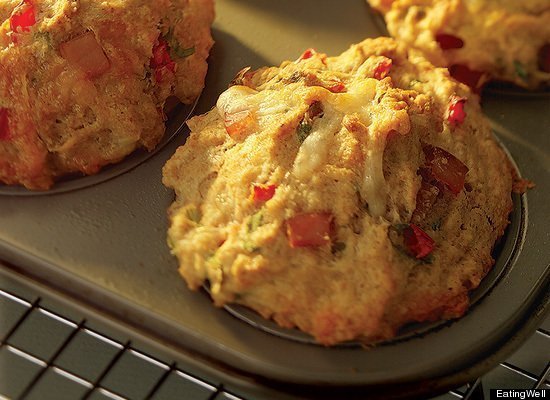 2

cups

whole-wheat flour

1

cup

all-purpose flour

1

tablespoon

baking powder

1/2

teaspoon

baking soda

1/2

teaspoon

freshly ground pepper

1/4

teaspoon

salt

2

eggs

1 1/3

cups

buttermilk

3

tablespoons

extra-virgin olive oil

2

tablespoons

butter, melted

1

cup

thinly sliced scallions (about 1 bunch)

3/4

cup

diced Canadian bacon (3 ounces)

1/2

cup

finely diced red bell pepper
1. Preheat oven to 400°F. Coat 12 muffin cups with cooking spray.
2. Combine whole-wheat flour, all-purpose flour, baking powder, baking soda, pepper and salt in a large bowl.
3. Whisk eggs, buttermilk, oil and butter in a medium bowl. Fold in scallions, bacon, cheese and bell pepper. Make a well in the center of the dry ingredients. Add the wet ingredients and mix with a rubber spatula until just moistened. Scoop the batter into the prepared pan (the cups will be very full).
4. Bake the muffins until the tops are golden brown, 20 to 22 minutes. Let cool in the pan for 5 minutes. Loosen the edges and turn the muffins out onto a wire rack to cool slightly before serving.
Reheat & Run
Bake muffins on weekends and enjoy the leftovers for grab-and-go weekday breakfasts. Wrap leftover muffins individually in plastic wrap, place in a plastic storage container or ziplock bag and freeze for up to 1 month. To thaw, remove plastic wrap, wrap in a paper towel and microwave on High for 30 to 60 seconds.
Bacon and Bourbon Brownies

1/2 lb bacon
8 oz butter
10 oz baking chocolate
1 cup granulated sugar
1/2 cup firmly packed brown sugar
5 large eggs
Freshly-ground black pepper
1/4 cup unsweetened cocoa powder
1/2 tsp smoked salt
1 1/2 cups flour
1/2 cup chopped pecans
Bourbon

Preheat the oven to 350F.

Cook the bacon until it is very crisp, drain off the grease and set aside. Pat the bacon dry with paper towels, crumble into tiny pieces, chopping in food processor if possible. Set aside.

Place the pecans in a bowl and just cover with bourbon. When roughly half of the bourbon has been absorbed, scoop out the pecans with a slotted spoon, arrange them in a single layer on a baking sheet and bake until nearly toasted. Reserve one teaspoon of the bourbon, pour the remainder over the pecans, and let them finish toasting. Remove them from the oven and set aside.

In a double boiler, over simmering water, combine the butter and chocolate. When the mixture is nearly melted, remove it from the heat and stir together until blended. Pour the mixture into a medium-sized bowl and let it cool to room temperature.

Once the chocolate mixture is cool, add the granulated sugar, brown sugar, several grinds of black pepper, smoked salt, eggs and reserved bourbon and whisk well to combine.

Add the cocoa powder and stir until thoroughly incorporated. Then stir in the flour 1/2 cup at a time, making sure it is thoroughly incorporated before adding the next portion. Stir in the bacon and pecans.

Use the reserved bacon grease to lightly coat an 8x8 baking pan, and pour in the batter. Bake 25-30 minutes, or until a toothpick inserted near the edge comes out dry, but inserted near the center, comes out lightly coated in batter. Let the brownies cool, and cut into squares to serve.
Apple and Cranberry Tart
A single pie crust
3 medium tart apples, peeled
1/2 cup whole berry cranberry sauce
1/4 c sugar mixed with 1/4 tsp. each grnd cinnamon and nutmeg
1Tbls butter, cut into small pieces
Powdered sugar
Heat oven to 425F
Directly on baking sheet, roll out crust to approx. 12" round, edges will likely be uneven
Cut each apple in half, remove core, turn halves cut sides down and slice crosswise into thin slices
Leaving a 2" border, arrange apple in a circle on the crust, overlapping slightly. Pile remaining apples in center.
Dot with cranberry sauce in 7 or 8 places
Sprinkle apple with sugar-spice mixture, dot with butter
Fold pastry corners over apples
Bake 15 min., then turn oven down to 375 and bake an additional 15 min., or until apples are tender and pastry is golden.
Cool completely on sheet atop a wire rack or slide off sheet onto a serving plate if not rewarming.
To warm before serving, heat tart in a 400F oven, 5-8min. Dust with powdered sugar.
Tart can be baked up to a day ahead. Cool completely, cover, and refrigerate on baking sheet if rewarming to serve.